A new partnership between the University of Toronto and the Ted Rogers Centre for Heart Research is forging new collaborations and designing new technologies to reimagine how high-quality, digital approaches to heart failure can be equitably delivered to all Canadians.
Heart failure affects at least one million Canadians at any given time and few chronic diseases bear a greater impact. Nine out of 10 pass away within 10 years, having experienced a reduced quality of life, frequent lengthy hospital stays, and chronic disruptions to jobs, relationships and family life.
TRANSFORM HF will build, support and fund a deep community of multidisciplinary engineers, basic and data scientists, clinicians, and health experts whose innovative solutions will help monitor and proactively treat people with heart failure in their own homes and empower them toward greater self-care.
A new vision takes root in Toronto
Today, new therapies are dramatically improving quality of life and survival in heart failure, and technology is capable of changing how the disease is managed, according to Dr. Heather Ross – a Ted Rogers Centre Scientific Lead who was recently appointed to the Order of Canada for her dedication to advancing cardiac care.
"Unfortunately, these therapies and approaches are underutilized and inaccessible to a lot of Canadians," Dr. Ross says. "Our goal is to unite the right people in devising new medical and artificial intelligence technologies that will achieve equitable access to high-level care across our country's vast geography."
She and Professor Craig Simmons – also a Ted Rogers Centre Scientific Lead and director of our Translational Biology and Engineering Program – are co-leading TRANSFORM HF.
"We will bring together the vast amount of technology developed at the University of Toronto and deploy it in new ways," says Prof. Simmons. "Our engineers and scientists will help our clinical partners deliver expert care to remote locations and perform continuous monitoring to keep people with heart failure safe."
He says that some of these innovations, like biosensors and remote monitoring tools, already exist – and others will be co-designed by experts in different fields, and by patients themselves.
Patients as partners
Any innovation is only as valuable as it is practical. For this reason, patients are critical partners of TRANSFORM HF.
"In medicine we must do things with patients, not to patients," Dr. Ross says. "They are the ones who will use these technologies, and they can tell us if our ideas make sense, or how they can be tweaked."
Brad Pope, one of Dr. Ross's patients at Peter Munk Cardiac Centre, is an early patient participant in TRANSFORM HF. "Technology is fantastic and it's helping someone like me achieve my goal of getting back to as close to normal as possible," Brad says. "But we always have to ensure that we have the end user "me" in mind in developing better care and having them at the table from the very beginning."
A key goal of the program is to build user-centered technology that can be adapted by any patient, in any environment, with any specific need.
"Technology is often developed in a bubble, so for our engineers and scientists to collaborate with patients on design will change everything," says Prof. Simmons. "The ability to interact with end users early will help us create solutions that work more quickly and more smoothly."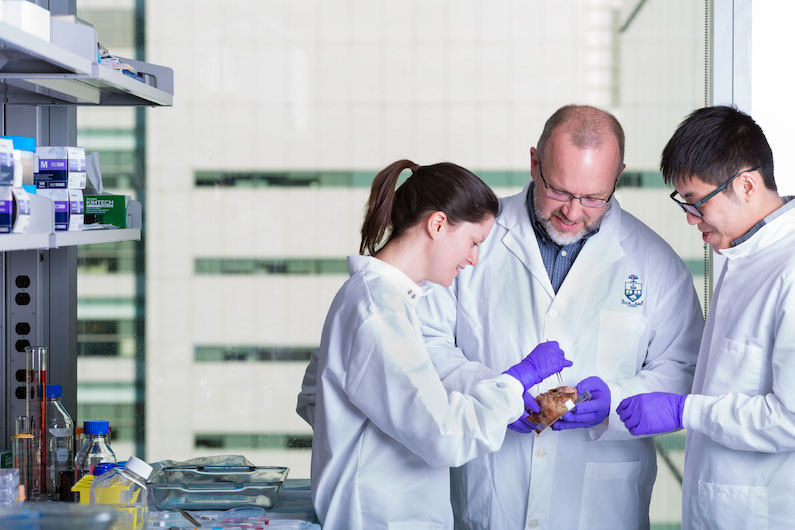 Managing patients beyond their 'episodes of care'
Heart failure is a 24/7 disease, as slight changes in clinical status can cause serious problems. The challenge, Dr. Ross says, is that patients tend to be managed only during episodes of care. But what happens outside that time? We need new methods to monitor these people, capture any changes quickly, and intervene early.
The TRANSFORM HF team will devise a new era of biosensors that can be packaged and used by Canadians in any community. These include wearable sensors built into fabric – socks, patches, vests – that monitor clinically relevant vitals like heart rate, blood pressure, breathing patterns and fluid accumulation. They may include a mobile app whose special camera can assess blood flow below the skin, and tech that syncs with consumer products like the Apple Watch or Fitbit.
Prof. Simmons says the team will also conceive new ways of bringing diagnostics that are done in the lab (ex. blood, saliva, urine) to people's homes. "Patients often have to travel for them and wait days for results," he says. "What if we could give them a small device that, for instance, takes a pin prick of blood, runs a test, and produces results in 15 minutes? These microtechnologies already exist, but they haven't been engineered to specifically focus on markers important for heart failure."
Innovations like these can yield oceans of data, which may hold new signals that reveal the state of someone's heart failure or the risk of it worsening. The machine learning component of TRANSFORM HF is about creating algorithms that can predict someone's risk of hospitalization, and enabling clinicians to intervene early to help keep that person in a stable condition.
Because technology is changing so fast, we also need to conceive of new ways to study whether novel technologies work, how we integrate them into virtual care and whether they influence patient outcomes. TRANSFORM HF teams will design new trials capable of seeing if a sensor works as intended, in the near term. "Because if we wait years to see if our innovations actually work, by then, the technology will have changed," Dr. Ross says.
Training the next generation of scientists and clinicians
To make this mission sustainable, we must train graduate students, scientists and clinicians across disciplines – for instance, a fellow is supervised by a heart failure doctor and a technology developer at the same time. To achieve realistic targets, it means this training must expand beyond the lab and into communities and homes where their innovations are to be used.
"An immersive training experience allows our students to see first-hand what the constraints are, what power is available, what internet connectivity is like, and who the people are that they are designing technology for," says Prof. Simmons. "New innovations will be set up to make a true difference in people's lives."
This training includes commercialization as well, as students and fellows will explore entrepreneurship and vital aspects of translating technology like regulatory rules – subjects even veteran researchers are not familiar with.
All of this will rely on brand new partnerships with patients and communities, at all stages of development.
"This is a special opportunity to co-create and test new inventions in a collaborative sandbox, and I expect it to build into a long-term funding model to create a pipeline of innovations in the heart failure space," Prof. Simmons says.
Looking ahead
TRANSFORM HF, which formally launched in February 2021, carries the spirit of the Ted Rogers Centre itself: to not only make bold claims, but to deliver on them. Both Dr. Ross and Prof. Simmons agree that ideas which seem cutting-edge today will become the norm five years from now.
"Our success in moving the field forward will be entirely tied to the community of people who are dedicated to changing the lived experience of heart failure – patients included," Dr. Ross says.
"For decades, we've watched heart failure care evolve incrementally. But with all stakeholders working together, we will generate ideas that allow for transformative changes in how we manage this complex disease. Instead of taking steps we can make leaps."