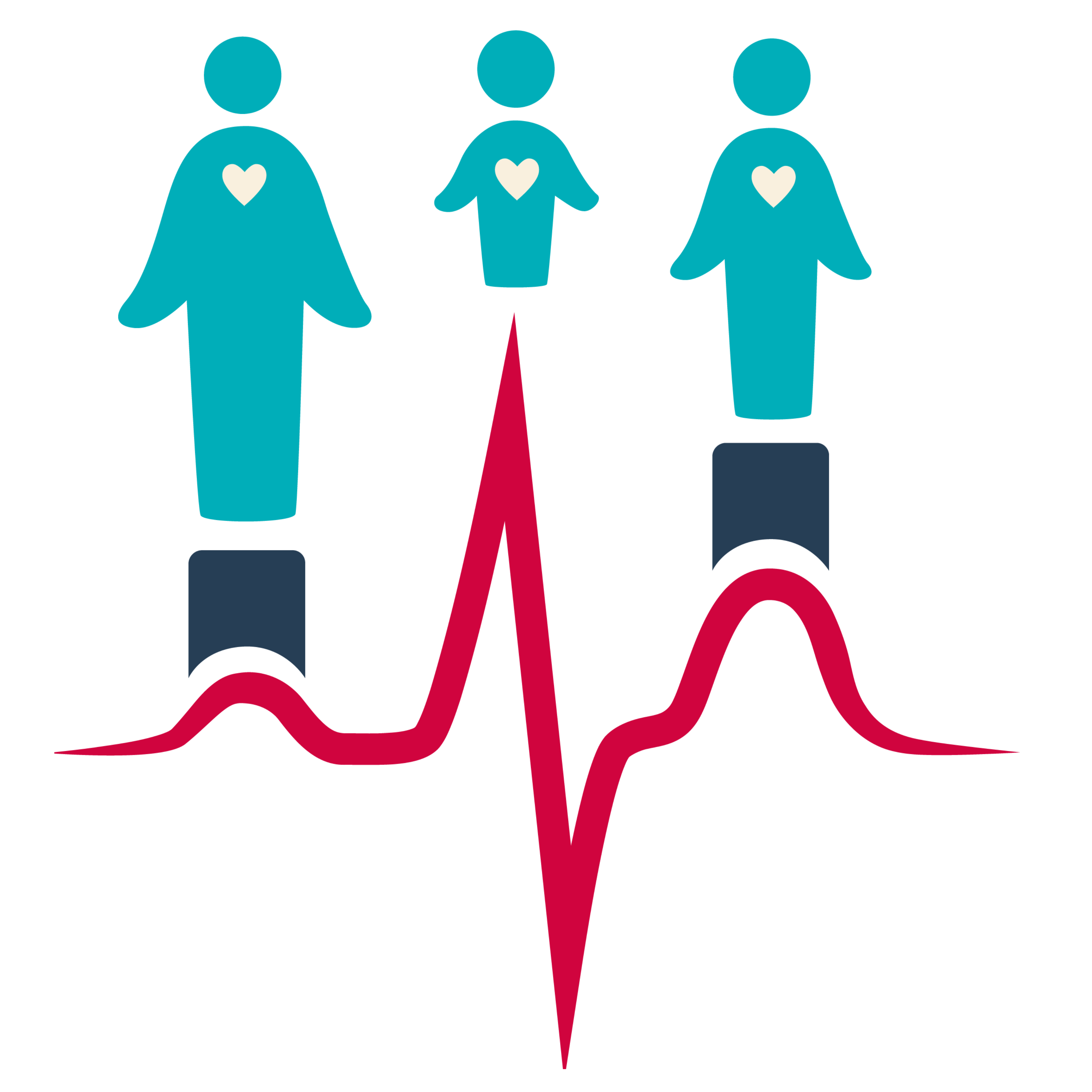 CaRDM Eq Training Program Overview
Training Components
CaRDM Eq has been designed to provide a comprehensive combination of technical and professional skills through theoretical and experiential learning. A suite of year-round mandatory and optional training components tailored to trainees' levels of study and interests support the program's learning objectives.
Click through the below training components to learn more.
TC1: Core Technical Course - MANDATORY
Graduate trainees will be required to take one for-credit graduate course in alignment with one of CaRDM Eq's three research areas (1. point-of-care diagnostics, 2. wearables and embedded sensors, 3. digital health implementation) to support completion of the technical training objective.
Suggested courses include:
BME1580 Digital Technologies for Cardio-Respiratory Disorders
CHL5526 Indigenous Qualitiative Methods
ECE1475 Biophotonics
MIE1208 Microfluidic Biosensors
MHI2003 Emerging Applications in Consumer, Public and Global Health Informatics
MHI2004 Human Factors and System Design in Health Care
Note that other courses may be accepted if they are deemed appropriate by the CaRDM Eq Steering Committee.
TC2: Short Technical Courses - MANDATORY
CaRDM Eq supports the delivery of 11 non-credit short courses. These courses are intended to act as primers to topics outside a trainee's specific expertise, to broaden their knowledge base, and facilitate collaboration across disciplines and research areas.
All trainees are required to take TC2: Heart Failure 101. Master's students will take one additional course, and PhD students and PDFs will take two additional courses, all outside their core research area.
A full listing of TC2 courses will be available in the coming weeks.
TC3: Entrepreneurship Workshops - OPTIONAL
CaRDM Eq will facilitate access to the six-month ECHO Discovery program to explore ideation, translation, and commercialization.
ECHO Discovery is for fourth-year undergraduate students and graduate students enrolled in a Canadian university as well as post-doctoral and clinical fellows affiliated with the Toronto Academic Health Science Network (TAHSN). It is designed for those interested in exploring research translation and entrepreneurship within the cardiovascular health sector but who may be unsure how to proceed. No ideas, start-ups, or previous experience are necessary to participate!
TC4: Undergraduate Summer Research Program - MANDATORY FOR UNDERGRADS ONLY
CaRDM Eq will offer 10 undergraduate summer research projects per year to NSE and non-NSE undergraduate students from anywhere in the world, with up to two awards reserved for Indigenous engineering students.
These awards will offer the opportunity to train alongside CaRDM Eq's multidisciplinary team of researchers to help address the grand challenge of inequity in cardiovascular care. This component will be supported by and integrated with the TRANSFORM HF Undergradute Summer Research Program, with a requirement that all recipients be co-supervised by supervisors from distinct disciplines.
TC5: Core Professional Course - MANDATORY
Trainees are required to take this year-long flagship course during their first year. Its four modules support the development of professional skills and perspectives needed to design for equity, which include:
User-Centred Design

: Learn how to look beyond the technical requirements of design to consider human factors! Trainees will explore end-user engagement strategies to support patient safety, influence behaviour, and increase adoption

Co-Creation

: Guided by people with lived experience, Indigenous communities, and other underrepresented groups, trainees will learn how to develop relationships and respectfully co-create digital health technologies with end users across social, economic, scientific, and cultural domains

Communications for Access

: Trainees will explore knowledge mobilization strategies and gain tools to communicate their research goals/findings for access across different languages, cultures, abilities, and levels of health literacy and technological proficiency.

Cultural Safety & Anti-Bias Training

: Through land-based approaches, hands-on workshops, and online learning, trainees will be introduced to the contemporary issues impacting health outcomes of underserved groups and become equipped with the tools needed to identify, avoid, and mitigate bias in research.
TC6: Professional Competency Courses - OPTIONAL
CaRDM Eq trainees can take for-credit courses on Engineering Leadership, Global Perspective, and Ethics and Societal Impact offered through UofT's Institute for Studies in Transdisciplinary Engineering Education & Practice and Troost Institute for Leadership Education in Engineering to complement professional skills development.
TC7: Interdiscplinary Translational Research Project - MANDATORY
Trainees are required to complete a Master's or PhD thesis (research project for PDFs) related to one/a combination of the three Research Areas, with oversight from an interdisciplinary mentorship committee comprising two complementary academic co-supervisors, three key opinion leaders (KOL), and relevant end users (clinicians, companies, patients, caregivers, Indigenous health authorities).
Trainees will meet with their mentorship committee twice/year, with one meeting coinciding with TRANSFORM HF's Annual Meeting to present their research and network with the broader TRANSFORM HF community.
Translation plans for implementation via clinical needs assessment, equitable design, and end user engagement will be foundational to all projects.
TC8: Experiential Learning - MANDATORY
Trainees must complete one of the three types of unique experiential learning opportunities supported by CaRDM Eq:
Industry internship (4-months)
Community observership (1-4 weeks)
Entrepreneurship training through ECHO (year-long program)
TC9: International Exchanges - OPTIONAL
CaRDM Eq will support international exchanges for trainees working with the International Centre for Translational Digital Health, a UofT, University of Manchester, and University of Melbourne collaboration.
Trainees will work with experts from a broad range of disciplines to commercialize new technologies, translate theory into public policy, and strengthen health services delivery. Participation in joint workshops and symposia through the Centre will also be included in this component.
TC10: Travel Awards - OPTIONAL
Travel awards will be available to support industry internships, observerships, conferences, and external workshops and symposia aligned with the objectives of the CaRDM Eq program, to be awarded on a competitive basis.
Your Journey Through CaRDM Eq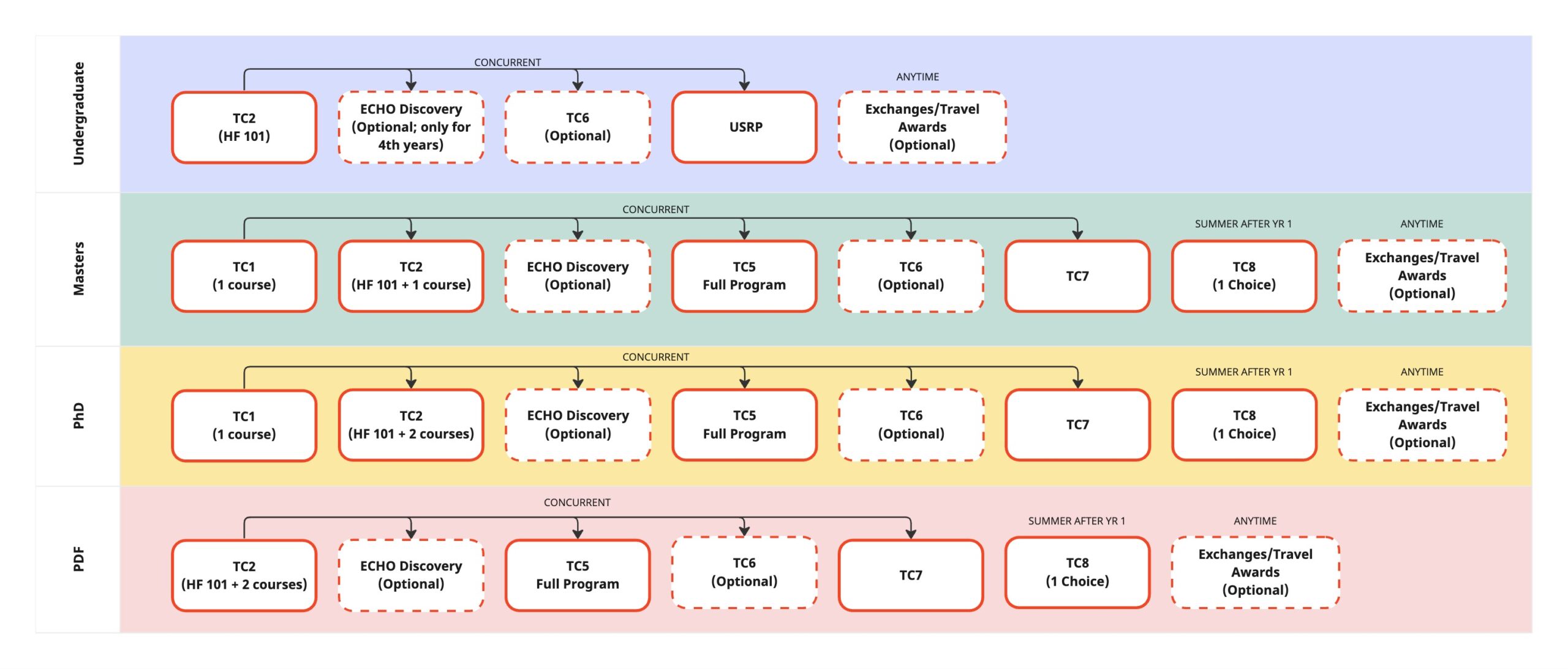 NSERC Acknowledgement
The Translating Cardiovascular Remote Monitoring and Diagnostic Technologies for Health Equity (CaRDM Eq) is a CREATE training program funded by NSERC that will train the next generation of digital cardiovascular health innovators to design for equity.
We acknowledge the support of the Natural Sciences and Engineering Research Council of Canada (NSERC). Nous remercions le Conseil de recherches en sciences naturelles et en génie du Canada (CRSNG) de son soutien.