MasterClass for Patient Partners Engaging in Cardiovascular Research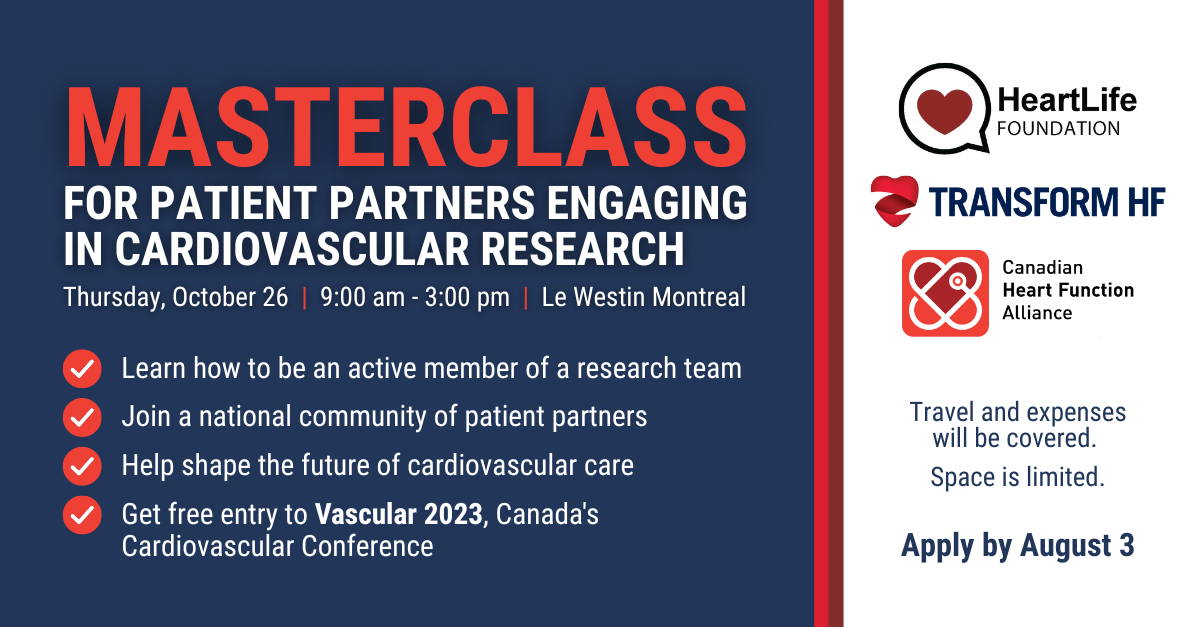 Workshop Description
Meaningful, impactful cardiovascular research must be grounded in the needs and priorities of patients, caregivers, and family members (People With Lived Experience, or PWLE). The voices of PWLE must be present as research is conceptualized, funded, executed and evaluated. An engaged and "partner-ready" community of PWLE partners who can be active and engaged members of research initiatives is needed to maximize the impact of research, meet the needs of research funders and assure the centrality of PWLE perspectives.
This free, day-long workshop is designed to train PWLE to be active and engaged members of research teams and to begin to build a community across Canada.
This "engaged and ready community of PWLE partners" will serve as a key step toward meeting the Canadian Institutes of Health Research's (CIHR) strategy for patient-oriented research, which asserts that research be conducted with patients rather than to them. It is also central to the vision and value of the partners: HeartLife Foundation, CHF Alliance, and TRANSFORM HF. By building and supporting a vibrant PWLE partner community, we hope to foster more responsive research that best meets the needs of all people in Canada. 
This MasterClass is meant for those who are living with cardiovascular conditions. Together, we will: explore the fundamentals of Canada's health research landscape, focusing on PWLE engagement at all stages of the research process; hear about the roles and real-world impacts of PWLE partners in cardiovascular research; share practical strategies on how to identify and overcome engagement barriers; and discuss key resources to support meaningful PWLE engagement.
Designed to be accessible, this comprehensive training will break down research jargon and pair theoretical and conceptual content with practical, applicable information. The use of experiential learning and case studies will allow participants to consider first-hand what it means to be a patient partner in health research, identifying areas of strengths and further learning for themselves. Group engagement will facilitate peer guidance, deepen learning, and contribute to building a cohesive, engaged community of PWLE partners.
Learning Objectives
Identify as a community of knowledgeable people with lived experience of heart disease ready to co-create with researchers.
Describe the role of the patient partners in health research, assess its challenges and opportunities and evaluate own strengths and needs as a patient partner.
Access and utilize patient-oriented research resources for patient partners to be meaningfully engaged at every stage of the research journey
Summarize Canada's research environment, research funding, peer review, research terminology and frameworks for patient engagement.
Activity Overview
Designed as a day-long, in-person workshop, this MasterClass will utilize multiple interactive strategies:
A pre-workshop survey will identify participant learning objectives, skills, and areas of interest/friction. Survey results will be explored using live polling and group discussion.
A mix of theoretical content, experiential learning, and case studies will be introduced. Facilitated small group work and brief presentations by researchers, health systems experts, and experienced patient partners will reinforce and ground key lessons, as well as facilitate peer learning and community building.
Participants will be able to role-play scenarios and apply new skills through paired activities.
Join Us!
Date: Thursday, October 26, as part of Vascular 2023
Time: 9:00 am – 3:00 pm
Place: Le Westin Montreal, 270 Rue Saint-Antoine O, Montreal, Quebec
Space is limited, please apply for the opportunity to attend by Thursday, August 3, 2023. Attendees will be selected to ensure a regional representation as well as diversity  of experience and perspectives. Selected attendees will be notified by August 15, 2023. You may be placed on a waitlist. Travel and expenses will be covered for all selected attendees, as well as registration for the broader Vascular 2023.
Email Augusta Lipscombe you have any questions.