Collaboration Starter Grants
Our Collaboration Starter Grants support members of our community working together by funding the initial activities of collaborative projects that align with the TRANSFORM HF mission. These activities can include preliminary project research and data collection, patient or Knowledge Keeper compensation, meeting facilitation, and proposal writing.
To apply for a Collaboration Starter Grant or learn when the next competition opens, visit our Opportunities page.
2022 Collaboration Starter Grants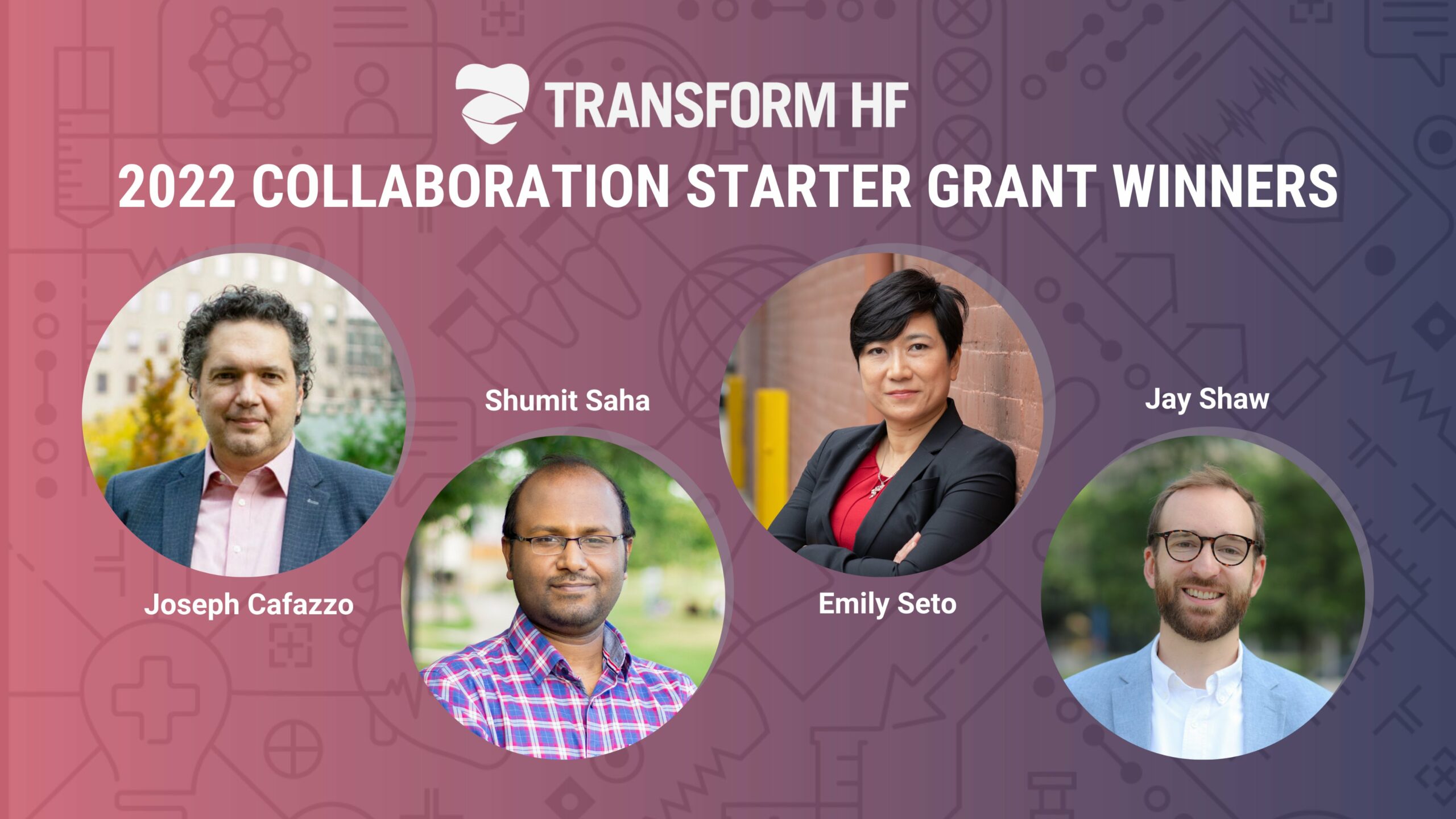 Speech Production Analysis to Estimate Heart Failure Decompensation
Joe Cafazzo, Professor, Institute of Health Policy, Management and Evaluation; Executive Director, Biomedical Engineering, UHN
Decompensated heart failure is associated with fluid retention, which can result in altered voice features. This pilot study will investigate the effect of decompensated heart failure on speech production through the Medly app, integrating sex and gender considerations to account for the fundamental differences in male and female voices.
Through this research, the team will lead a new line of development for an easily accessible and reliable tool to predict and prevent heart failure decompensation.
Identifying Potential Barriers to Automatic Titration of Guideline Directed Medical Therapy for Patients with Heart Failure
Shumit Saha, Scientific Associate, Centre for Global eHealth Innovation
This project seeks to optimize an already developed rules-based auto-titration algorithm for Guideline Directed Medical Therapy (GDMT) through patient and clinician interviews. These interviews will help identify potential barriers to implementing the auto-titration model and shape the model's user interface.
This will be the first study to explore the potential implementation process of automated titration of GDMT. Next steps include the inception of an automated heart failure therapy delivery model.
International Collaboration to Transform Heart Failure Care Models Facilitated by Virtual Care Technologies
Emily Seto, Associate Professor, Institute of Health Policy, Management and Evaluation; Affiliated Faculty, Techna Institute; Affiliated Researcher, Centre for Global eHealth Innovation
This project will support the creation of an international network of researchers, patients, clinicians, industry partners, and other stakeholders in Canada, the United Kingdom, and Australia for the development of a grant application. Aimed at advancing care models of heart failure (and other chronic diseases) that are facilitated by technologies, the application's ultimate intent is to enable equitable and high-quality virtual care.
A Pan-Canadian Analysis of Policy Frameworks to Promote Health Equity in Virtual Care
Jay Shaw, Assistant Professor, Department of Physical Therapy; Research Director, Artificial Intelligence, Ethics & Health, Joint Centre for Bioethics; Scientist, Women's College Hospital Institute for Health System Solutions and Virtual Care
Through interviews and workshops, this project will 1) investigate how strategies to promote engagement with virtual care technologies among structurally marginalized communities fit within existing Canadian policy frameworks and 2) seek to understand the perceived need among policy stakeholders for policies that enhance access to virtual care for structurally marginalized communities in Canada. The research team will prepare a tri-council grant submission as a final step of the project.
2021 Collaboration Starter Grants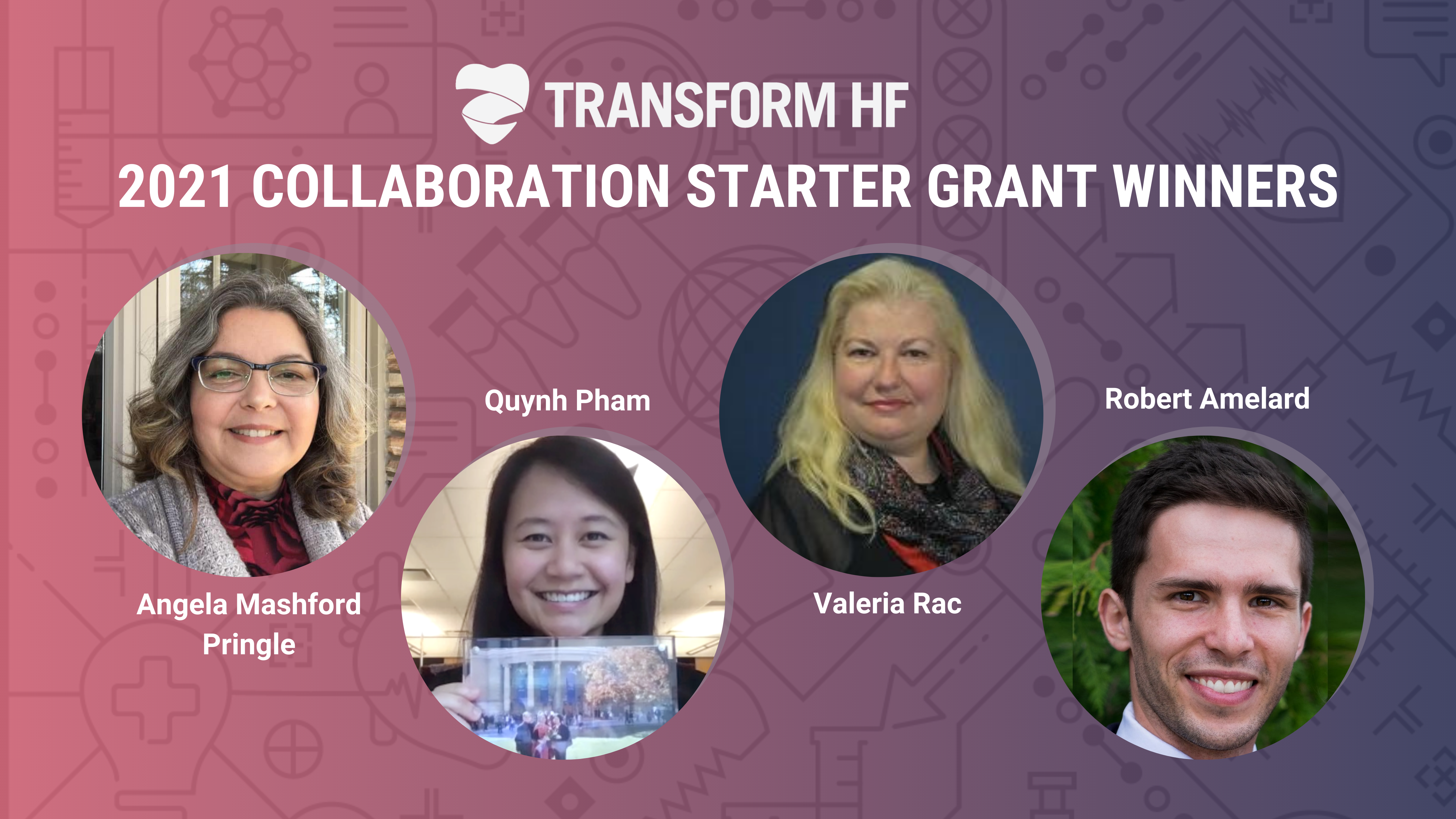 Land-based learning approach to working with Indigenous peoples – a pilot project
Angela Mashford-Pringle, Assistant Professor and Associate Director, Waakebiness-Bryce Institute for Indigenous Health
Dr. Mashford-Pringle will guide TRANSFORM HF community members through a 3-day on-the-land program with teachings by Elders and Knowledge Keepers and guided by the land as a teacher. This learning journey aims to explore Indigenous research methods, colonization, terminology, socio-political context and current issues that Indigenous people face. With cultural safety at its core, the program will enable participants to self-reflect on their learning journey, moving to a strengths-based and trauma-informed lens as they engage with Indigenous communities and peoples.
Building a Medly Caretown to empower equitable heart failure shared care
Quynh Pham (Scientist at University Health Network and Associate Director of the Centre for Global eHealth Innovation), Noor El-Dassouki, Raima Lohani
Research will engage Medly knowledge users in co-creating enhancements to the remote monitoring application so that caregivers are better integrated and can help address gaps in access, especially for the elderly, those from ethnocultural minority communities, or those with limited English proficiency. The goal is to create a shared virtual care experience and define enhancements to build out new Medly Caretown features and functionality. (Medly is a remote patient management system designed to keep Canadians with heart failure safe at home.)
The Canadian Workshop to validate model for assessment of artificial intelligence
Valeria Rac (Scientist and Health Technology Assessment Lead, Ted Rogers Centre for Heart Research and Toronto General Hospital Research Institute), Aleksandra Stanimirovic
This project, with both TRANSFORM HF members and international collaborators, will create a Canadian framework to assess AI-powered technologies as such methods gain prominence and shape models and care solutions.
Understanding user acceptability requirements for remote heart failure monitoring in at-home environments
Robert Amelard, Postdoctoral Fellow, KITE-Toronto Rehabilitation Institute, University Health Network
A diverse group of TRANSFORM HF collaborators will conduct a series of user engagement studies with patient partners to optimize remote monitoring technology adherence, propose guidelines for technology design with patients, and build relationships for future funding competitions.