On the Land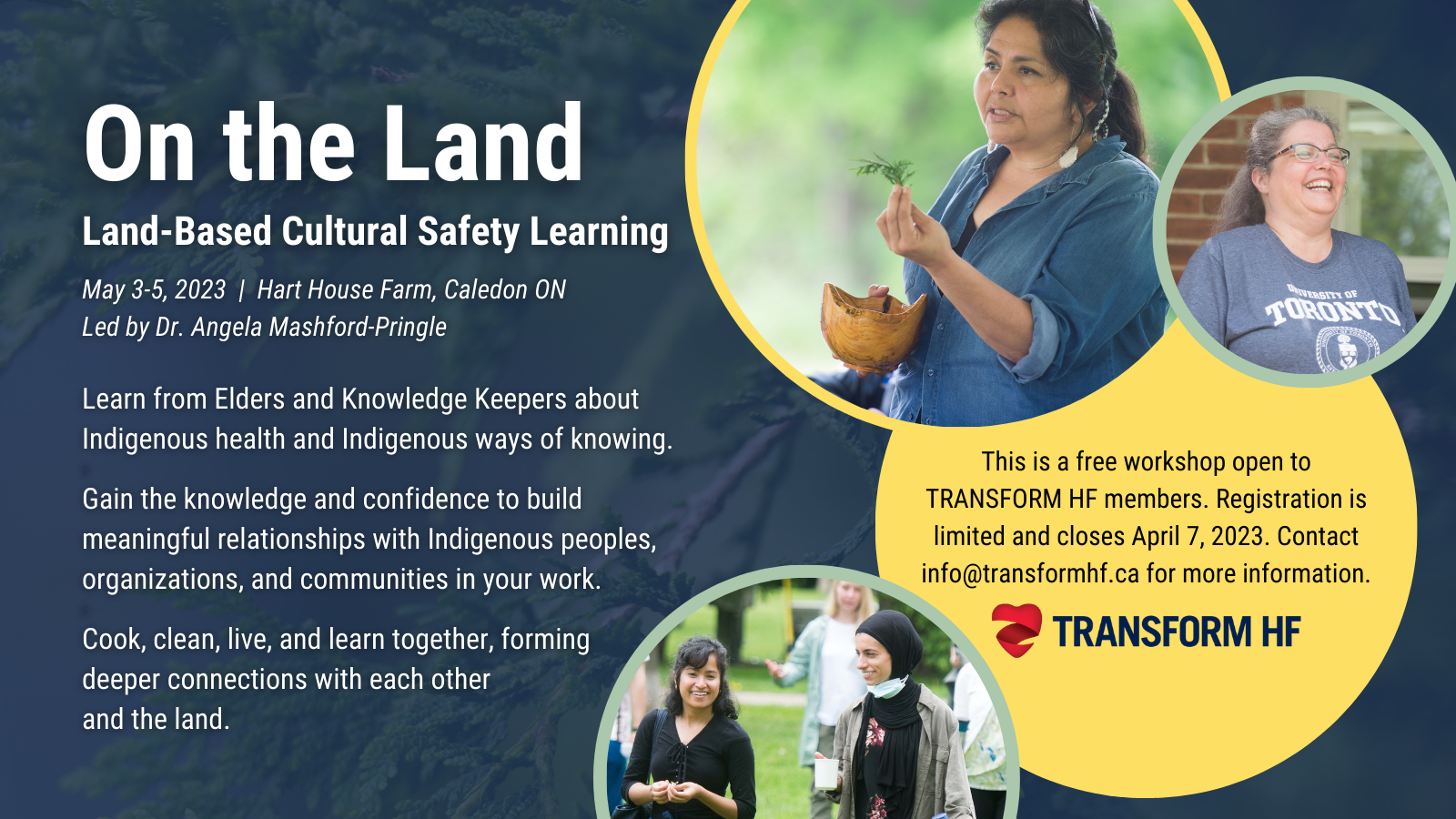 TRANSFORM HF Land-based Cultural Safety Learning
Led by Dr. Angela Mashford-Pringle, this three-day land-based course will provide TRANSFORM HF members with the opportunity to learn from Indigenous Elders, Knowledge Keepers, and Indigenous peoples with lived experience of heart failure.
Topics to be covered include, but are not limited to, the 3Ps (power, privilege, and positionality), the continuum of cultural safety, and the importance of active listening and self-reflection. Dr. Mashford-Pringle will also introduce and discuss historic and contemporary issues that underpin anti-Indigenous racism in healthcare.
WHY LAND-BASED LEARNING?
By removing the focus from titles and experiences, land-based learning opens us to new ways of learning and encourages us to see each other as equals. This type of learning allows us, as individuals, to contribute to the well-being of the broader group.
Learning on the land also provides a soothing and relaxing space for contemplating emotionally heavy topics, such as inter- and intra-generational trauma, cycles of violence, experiences with non-Indigenous health professionals, and the power, privilege, and position we hold in our work environment.
Through cooking, cleaning, living, and learning together over three days, participants of On the Land can expect to forge deep relationships with each other and with the land – something not possible in a typical office environment.
LEARNING OBJECTIVES
On the Land attendees can expect to:
Gain the knowledge and confidence to become reciprocal and meaningful advocates for and allies to Indigenous Peoples in Canada.
Explore how to apply a lens of cultural safety to their research and clinical practice.
Learn how to shift to a two-eyed seeing approach in order to broaden perspectives and view planetary health as kinship relationships with all in creation.
Re-learn how to interact first and foremost at the 'human' level.
Build friendships.
DETAILS
On the Land is open to all TRANSFORM HF members. However, space is limited and efforts will be made to ensure an inter-disciplinary group of participants. You will be notified by email if your registration is accepted.
On the Land will occur over the span of three days from May 3-5, 2023 at Hart House Farm in Caledon.
Participants will be expected to stay overnight both nights to experience the full benefits of the program.
Participants will be staying in cabins on Hart House Farm property. Each cabin will accomodate two participants. There is no electicity in the cabins, and accessing the cabins involves walking on uneven, unpaved ground. Wifi is not available in the cabins. Cell service is available, but can be unreliable. There are no shower facilities on the property.
Depending on the availability of drivers, carpooling to and from Hart House Farm may be arranged the morning on May 3 and the afternoon of May 5.
All are expected to assist in cooking and cleaning during their participation in On the Land.
Masking will be requested in the main building.